Quality
LDMS

Laboratory Data Management System
Our LDMS integrates the lab and plant processes. With over 60 installations in the United States, Canada, Australia and New Zealand, we are the world leader in laboratory information systems for the cement industry.
Your laboratory is judged on the quality, accuracy and timeliness of its data
PSCL's LDMS is unique in its focus on cement manufacturing. Most labs have adopted electronic recording: LDMS extends the concept by integrating instruments and analysis devices to reduce errors and increasing throughput. Improved efficiency of lab work is achieved through test scheduling and tracking. Critical information is available to the management team with automated reporting: One quality manager described this as his signal to have a second cup of coffee before the daily meeting.
Process and Equipment Integration
LDMS integrates with your laboratory equipment – x-ray fluorescence (XRF) and cross-belt analyzers, process control systems – to automate the creation of samples and their results.
Correlated bi-directional exchanges of plant process and quality data ensures that the people needing the story behind the sample have it with no delay.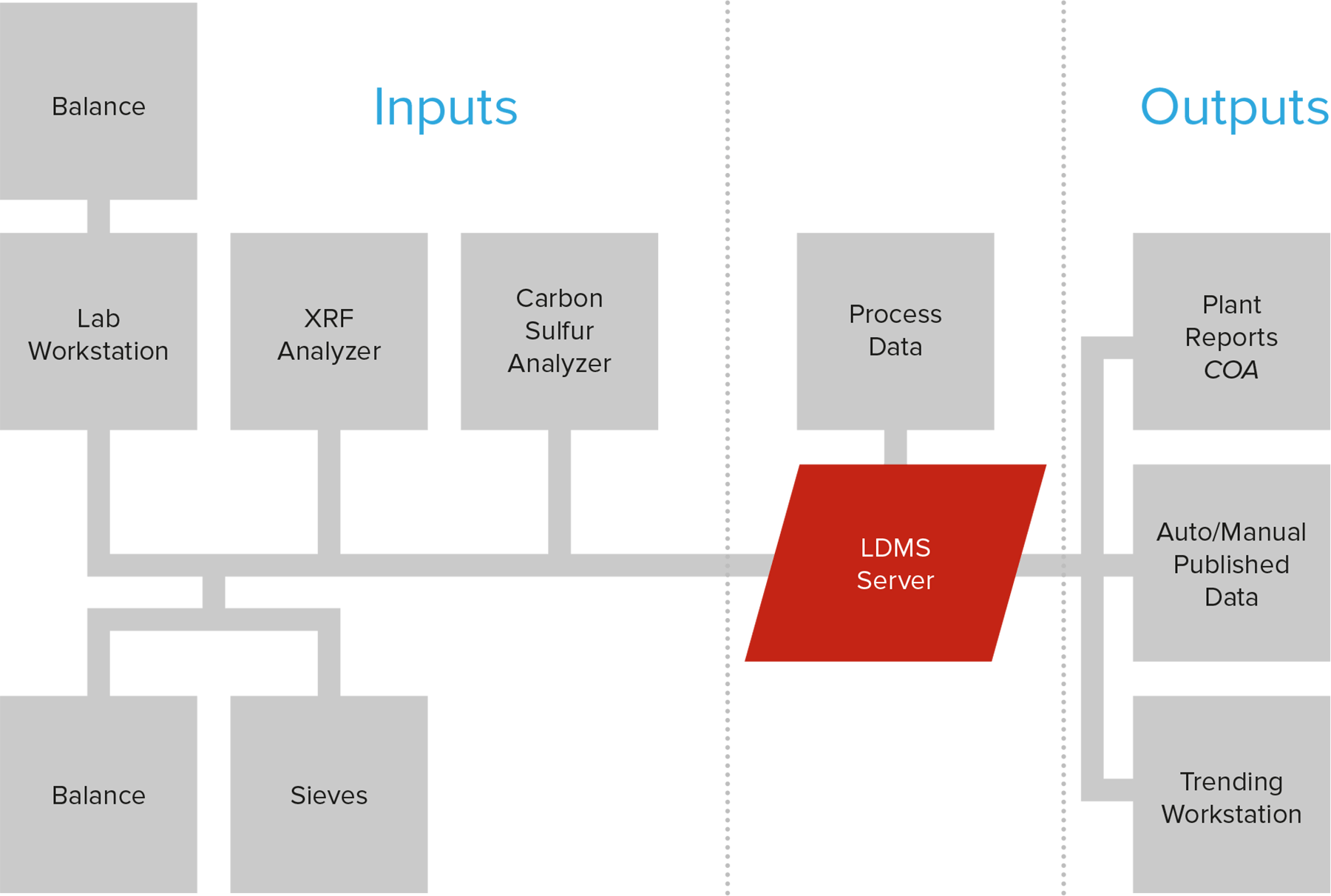 The LDMS becomes the core of your quality monitoring equipment and processes, unifying it into a powerful and flexible solution, saving you time and helping you avoid costly mistakes.
Increase Data Accuracy and Validation
Automatic data validation occurs for manually-entered and automatically-created results from analyzers.
User notifications, alarms, reports and an integrated audit log keep the quality manager on top of real-time data.
Easy and Customizable Reporting
Powerful built-in reporting tools – complemented by integration with standard business applications – allow data to be thoroughly and easily analyzed.
Generation and distribution of customized reports can be automated. Daily reports, mill certificates, corporate reports, etc. are easily managed by the LDMS. Everyone from a plant technician to the C-suite understands how your facility performs over time.
The Central Quality Database (CQDB) in LDMS brings all of your quality data to one place so you have a standard way of reporting for the enterprise.

What are the Key Benefits of LDMS?
Increase efficiency and reduce errors: automated sample creation and test result entry
Industry standard tests: customized for laboratory-specific requirements
Reduce training time: intuitive user interface
Reduce product variability and off-spec material: integrated SPC rules and notifications
Reduce rework and missed work: track samples from creation to completion of testing
Reduce work: automated report generation and distribution
Simplify audit and compliance reporting
Customer Support and Integration
Our team of experts work with you to customize, install, integrate, implement and maintain the necessary hardware and software.
With decades of experience, the Support & Integration team carry out on-site installation commissioning and provide full-time help desk support. We provide solutions which grow with your operations, proving their value year over year.