Quality
RMCS

Raw Mix Control System

The RMCS is helping us control the quality in real time so we get a feed to the kiln that is as uniform as possible. We use multiple products from PSCL.
Jakob Vikingsson
Quality Control Manager
Lehigh Hanson Cement, Edmonton
Increase consistency. Reduce material costs.
PSCL's Raw Mix Control System (RMCS) provides comprehensive control and monitoring of the raw mix process, reducing chemistry variation and time to prepare, and elevating quality. With RMCS integrated into your operations, you'll improve profitability on every batch while getting product to market more quickly.
All relevant information is collected and analyzed by the RMCS, including:
Material chemistry
Set points and flow (detect flushes/starvations)
Online and offline raw mill analyses
Delays
Targets and profiles
Mill and feeder capacities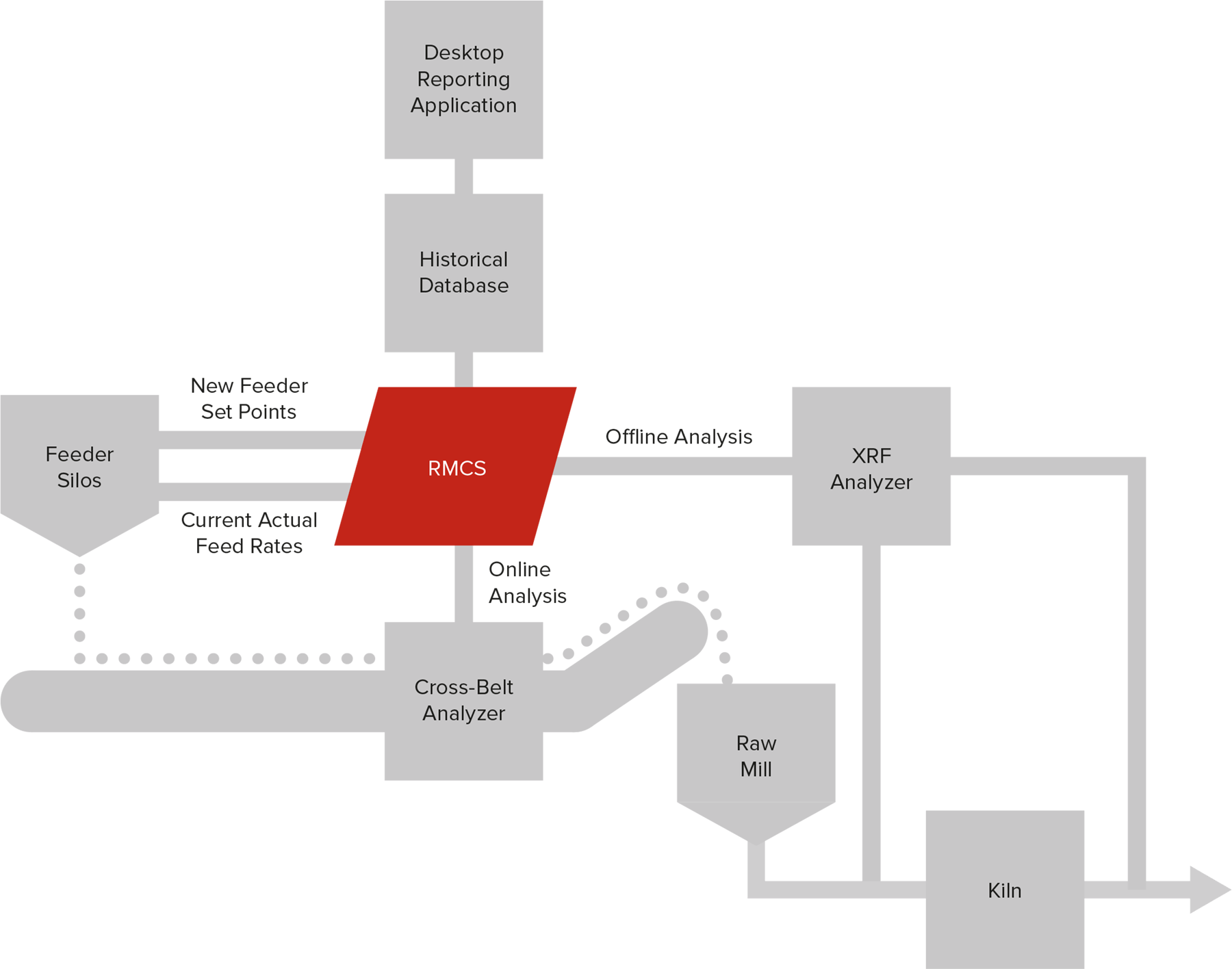 The RMCS allows you to precisely control your raw mix variables, as well as providing both online and offline analysis on the way to the kiln
The RMCS control algorithm integrates a fitness calculation which determines an optimal solution. The resulting feeder set points are automatically sent to the process control system (PCS).
The natural variation in the composition of the raw materials is dynamically adjusted for, resulting in a more accurate prediction and control of resulting chemistry.
The RMCS utilizes high frequency analyses from pre-mill cross-belt analyzers, and lower frequency post-mill x-ray fluorescence (XRF) analyzers. Dynamic correction of the cross-belt analyzer's results can be automatically calculated and applied within the RMCS.
Users are notified when a scheduled analysis is not received, statistical process control (SPC) rules are triggered, or a solution cannot be found.
Key Benefits
Increases raw meal and clinker quality
Reduces standard deviation
Reduces expenses by considering material costs
Reduces maintenance costs
Minimizes costs by integrating with existing analyzers and control systems
Reduces emission violations by enforcing constraints
Reduces time with comprehensive record keeping and reporting options
System Integration
The RMCS can be fully integrated with other PSCL software solutions, such as the Stockpile Management Suite (SMS) and the Laboratory Data Management Suite (LDMS).
Customer Support & Integration
Our team of experts work with you to customize, install, integrate, implement and maintain the necessary hardware and software.
With an individual average experience of over 10 years, the Customer Support & Integration team carry out on-site installation commissioning and provide full-time help desk support.